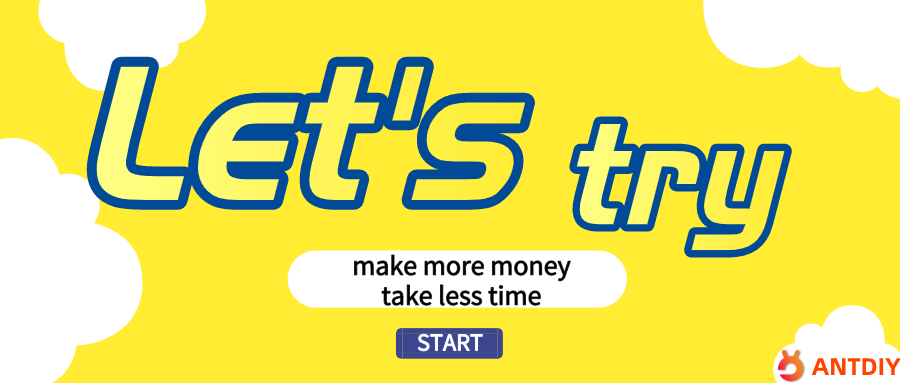 Who is ANTDIY?
ANTDIY is a dropshipping app that allows you to find all kinds of products to sell online, add them to your Shopify store, and start selling now. Never worry about packaging or shipping, and focus on developing your business.
The ANTDIY Chrome Extension is a free automation tool which helps to run a dropshipping business more efficiently.To run the AntDIY Chrome Extension(ACE), you must use the Google Chrome Browser.
ANTDIY main functions
Add Products with 1-Click
• Use our free Chrome Extension to add products directly from AliExpress to your dropshipping store with just a few clicks.
Automate Bulk Orders
• Reduce your workload by automating bulk orders and fulfilling multiple orders with one click.
Sync Tracking Numbers
• Orders and tracking numbers are synced with Shopify, so your customers know exactly when the products are expected to arrive.
Pricing Rules
• Save valuable time every time you add products to your store by adding global pricing rules for your Shopify store.More features waiting for you to discover
More features waiting for you to discover !!
How does it work?
Link your store
Download ANTDIY, connect the shopify store and AliExpress account, after doing this, you can directly join the AliExpress whitelist.
Import products
Quickly move the product from AliExpress. If you use ANTDIY chrome, then you can easily import and start selling products in a few seconds
successfully ordered
Congratulations! After obtaining the order, click to place the order, then go to AliExpress to pay, you can complete the order! Of course, you can also activate the automatic order function.
Shipped
For suppliers to deliver goods, you can click to synchronize the shipping number, and we will also synchronize all shopify orders for unified management.
---
ANTDIY  APP
Shopify perfectly blends
Fully integrated with Shopify, can achieve super fast, fully automatic, accept PayPal, credit card, wire transfer payment
Activity upgrade
We will post various activities in the group, and each activity will give you more functional experience and even special rewards.
More surprise
We are always updating, and each version update will bring you more features to use. If you have good suggestions, you can boldly tell us.
Products Recommended
If you don't know the market conditions, you can check out our product recommendations, which are all popular products on AliExpress and are updated from time to time, which can help you find better products.
Professional service team
We have the best customer service team. If you encounter any difficulties, don't worry, click the chat box in the lower right corner or send an email to contact us!
More function options
In addition to the basic one-click shop, we also have functions such as automatic order placement, tracking of order numbers, product updates, and timely notifications, which are sufficient to meet all your needs.
Wow, you have watched so much content, don't you plan to download it and try it?
Spend time on the blade
Directly connected to the Alibaba platform, we provide you with access to billions of products. Our supply chain innovations enable us to offer you good prices by connecting you with suppliers from AliExpress .
ANTDIY provides dropshippers with a one-stop solution to purchase cross-border products as simply and reliably as they do from local quality suppliers.Never worry about packaging or shipping, and focus on developing your business.
Trusted by People like you
feedback from our core users
So what are you waiting for, come and join us !
Contact Us
mailbox: ANTDIY@hotmail.com
Business Cooperation:support@ant3r.com