Dropshippers that are good at what they do, are likely to need a platform that will help them to save time, increase profits, increase ROI and scale their activities multiple-fold. We aren't just saying that because we happen to be an SaaS that is primarily a Facebook advertising platform. You can easily read lots of articles on why marketing and advertising is important for dropshippers. Here is a summary of the consensus more or less.
Even after finding the right product, the biggest challenge is still how do I A/B test the product at the lowest cost (What do I optimise for? What should I use to test- DPA? DCO?)
Low initial margins would mean that you need every advantage to scale your ads and increase margins overtime.
Committing to a better advertising solution means that you have to develop a long-term strategy that will win.
Data is EVERYTHING. How do I analyse my data? How do I cross refer Ads Manager data against Google analytics?
So, if you're thinking, "Yeah, I already know all of this." Then you might have already seen the benefits that advertising can give you and it might be time to scale.
"I only survive on 4 hours of sleep and coffee is now a major food group."
Does that sound like you? Research. Create. Test. Optimize. Repeat. The 4-step process of having to research products that are likely to convert, create multiple ad sets for all of them, continuously test which works and which does not, optimizing the best performing ads and then repeating the process is never ending. You can't afford to waste time on products, tools and strategies that will simply not work for you.
Let me take you through the four stages of dropshipping to show how having an advanced advertising platform can be the difference between becoming an expert dropshipper with higher margins and a novice that is still trying to make it big.
Facebook Ads structure: helping you understand facebook advertising better
Facebook Advertising for a successful dropshipping business is structured in three descending stages:
Campaigns (rossly determines the advertising objective)
Ad sets (Categorized ads by the targeted audiences and your budget)
Ads (Actual ads that will be showed to the users)
Campaign
'Campaign' stage starts where you need to set the primary objectives of your ad. Suppose, you have two types of ad sets for your dropshipping website; one is of the entire website and the other sets of ads deal with specified products.
canceling order aliexpress、chrome extensions for dropshipping、cancel order、 aliexpress refund、niche products 2020、how to write a life insurance cancellation letter. Serp、shopify affirm inc. shopify us、dropshipping from alibaba、cayler and sons turnbeutel、1688dropshipping、dropshipping chrome extensions、dropshipping alibaba、aliexpress cancel order refund、niche 、product 2020dsers failed order、alibaba shopify app、alibaba vs aliexpress dropshipping、1688 dropshipping shopify、tom tailor kleid mädchen、aliexpress stores、dsers vs oberlo
You've certain objectives for both of the ad sets. With the first type of ads, you want to:
Maximize traffic to your dropshipping website
Getting more likes
Increase the audience base of your dropshipping business
Coin some offers
Increasing brand awareness
While with the rest specified products' ads, you want to maximize the independent sale of these products.
At this stage, you need to carefully categorize each ad to their respective adjective and create the correct 'campaign' for each of the categories.
request order cancellation aliexpress、shopify chrome extension、aliexpress cancel orderfrei wild tortendeko、aliexpress order cancelled refund、how to find alibaba、dropshippers、nässeschutz kinderwagen、shopify global pricing rules、alibaba dropship shopify
Ad Sets
At the 'Ad Sets' stage, you would cater the ads to the relevant sets of audiences as per their demography, interest, occupation, Facebook groups they belong to, types of posts they like the most, pages you've commented on, recent life events, purchasing frequency and personal interest.
'Facebook Audience Insights' is a free tool from Facebook that makes the entire sorting process a piece of cake. Just use it, I won't even call it a 'free tool', it's a part of FB Ads you NEED to use.
For example, if you're selling some sports accessories, you would specify a set of the ad for your 'customized audiences'; another set for people with nearer residence; another one for people with at least one person and his friend-list who has purchased from your site.
Ads
The final stage, the 'Ads' is the narrowest and most relevant combination of most useful objectives and targeted audiences. Here comes the live ad creation part. For each of the ad sets, you need to mix and match multiple logos, descriptions, and images and to see which one works the best.
Always remember to run A/B tests. A simple change of color can boost the conversion rates by 100%.
Targeting the right audience
Why would you treat Cinderella with a rainbow mustache? Wink wink!
Studies have shown, only failing in targeting the correct group of the audience has led numerous dropshipping businesses to the dogs while the opposite can have a claim for roaring success. If you've well-researched your dropshipping niche, this is going to be the easiest part.
Demography, Interest and Occupation
Quite obviously, a 60 years old ex-army man will not like the same products from your website as a high-school girl will. 'Facebook Audience Insight', an inbuilt extension of Facebook, allows you to distinguish your actual targeted audience by their:
Interests (Facebook groups they belong to, types of posts they like the most, pages they've commented on.)
Recent life events
Purchasing frequency
If you're selling some kitchen appliances, Facebook will automatically target only the users around you who have recently purchased some kitchen appliances or associated things recently or have shown interest on those or at least belong to some interest group of the same.
Basically, you can laser target your potential customers. This is exactly what we need in a dropshipping niche store!
Geography
The more concentrated your circle is, the nearer is the success. The first thing to address in Facebook Advertising for successful Dropshipping business is the location. Being a retailer of South Pole, won't selling windcheaters to the North Polar Bear be a little too adventurous? Target your prospective buyers within a certain geographical circumference where you think you can deliver products at the earliest.
Custom Audiences
Along with showing your advertisements to the targeted audiences, with advanced Facebook marketing tools, you can customize your own preferred viewers' list with their email addresses. They can be from your previous customers, positive reviewers or people who have personally contacted you for some specific product.
The budget factor
Money matters. It really does.
A single penny isn't worth wasting at any cost especially when you're an entrepreneur in dropshipping business. We always suggest you go slow. Instead of investing a mammoth amount of money at a single time ad campaign, invest smaller amount at first.
Follow the growth and then grow accordingly. With 'Facebook Advertising Tool', you can pay for the advertisements on daily basis and also as a one-time investment or the 'Lifetime Budget' as they call it.
ALWAYS remember to test out new things. You will lose some money, but only to make a lot more than what you lose. Just learn the lessons and remember, all you need to do is marketing, you're not managing inventory, packaging, and shipping good, investing a ton of money. Simply go out there and try new things and don't get heartbroken if you lose some money.
Even though a daily budget is much lower at a time for obvious reasons, we personally recommend you to go for 'Lifetime Budget' till you get the master hold on the investment factor. With a daily budget, you have certain chances of exceeding your total budget to a far extent while setting the one-time 'Lifetime Budget' will lower the chance.
We suggest you go for the 'Lifetime Budget' with specifying the duration within which Facebook is supposed to spend your entire money on your ads.
Facebook spends the budgeted money in either of the two ways: on the basis of clicks (CPC) or impressions (CPM). with CPC (Cost Per Click), Facebook will automatically generate the ads on behalf of you to the most relevant users and with CPM (Cost per 1000 Impressions), the money will be deducted for every 1000 impressions on your ad.
The automated 'Facebook Advertising Tool' lets you to ad separately any discount coupon or offer if you want to.
Facebook Ads placement for Dropshipping business
You get 5 options of placing your ad to the Facebook wall as it comes in order:
Desktop News Feed
Mobile News Feed
Instagram
Audience Network
Desktop Right Column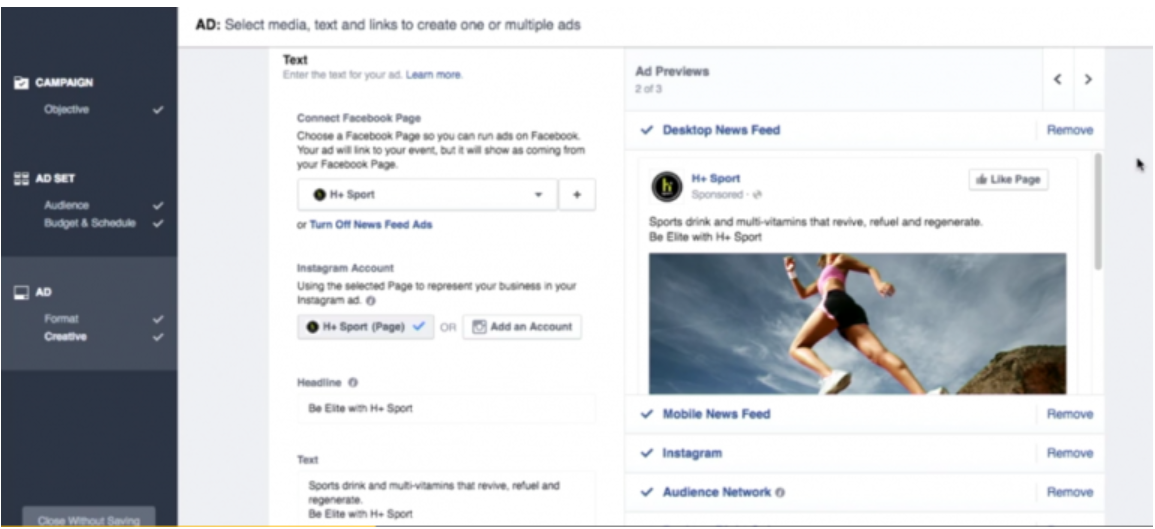 Statistics say the first two options, i.e. the Desktop News Feed and the Mobile News Feed generate maximum traffic. Simply avoid the Desktop Right Column.
The Best Use Of Facebook Ads
In my opinion, the best use of Facebook ads is to capture leads. With well-targeted ads and good email sequences, you can really generate a lot of extra revenue.
ANTDIY Dropshipping-
The best choice for Euro/US dropshippers to improve business efficiency

ANTDIY, a High efficiency free shopify APP ,The official partner of AliExpress, the only shopify App that can provide the best customer service.
If you feel like to try dropshipping, then don't miss ANTDIY, we have a variety of functions and perfect service, it can help you import products with one click, and can also help you place orders automatically, ANTDIY helps you source your assortment from a wide variety of reliable suppliers on 10 platforms, such as AliExpress,1688 dropshipping , Taobao, etc.ANTDIY, a High efficiency free shopify APP.
It's not terrible to be fired, but if you have been overly sad, you will not be able to return to your normal life. Hurry up and start your new journey.
Learn more
Join us
Dropshipping、selling on shopify、e commerce shipping and fulfillment、Aliexpress、shopify applications、order fulfillment、multivendor e commerce、e commerce companies、print on demand、niche markets、multivendor ecommerce、online shopping、ecommerce store、shipping label、shippers、startup strategy、Business、suppliers and vendors、amazon fba、alibaba、payment gateway、woocommerce、payment processing、online marketplaces、business advice、making money online、entrepreneur advice