If you encounter a difference between the actual shipping method used and the setting, or the order failed due to the shipping method, or the shipping cost has changed, then don't panic, you can read this description.
Here you can set up shipping method in two places
1. [Personalized Shipping Methods]
ANTDIY will auto-select the shipping method based on the product and country selected during checkout on AliExpress.
This is the most preferred option. You can set up unneeded shipping methods for different countries here. When you place an order, ANTDIY will inform the supplier to use this type of shipping.
2. [Default shipping method]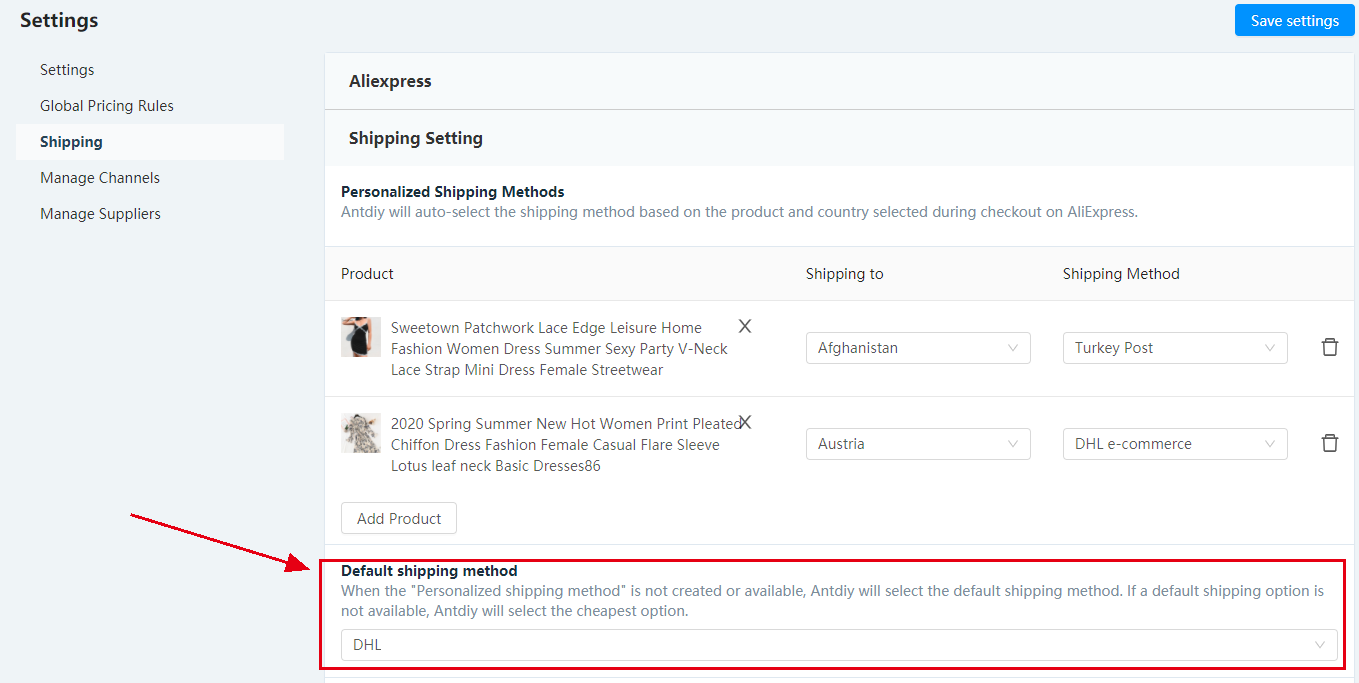 When the "Personalized shipping method" is not created or available, ANTDIY will select the default shipping method. If a default shipping option is not available, ANTDIY will select the cheapest option.
Choose a shipping method here. When the product supplier does not support the shipping method set in [Personalized Shipping Methods], or the selected shipping method cannot be shipped to the place, ANTDIY will choose this shipping method instead.
If none of the above settings are valid, ANTDIY will choose the cheapest shipping method instead of shipping. If the cheapest shipping method is still invalid, it will report an "order failed" message. At this time, you need to re-order and set Place an order with an available shipping method.
So in simple terms, the order of selection of transportation methods is:
【Personalized Shipping Methods】
【Default shipping method】
The system selects the cheapest shipping method
Error "Order failed"
Two tips—how to quickly set the same shipping method for all products?
Set only the default method
Delete specific product transportation settings
Set the default shipping method for products
Click Save
After the save is successful, all products will use the default shipping method after placing an order
Set the default shipping method after setting individual products
Set up individual product transportation methods
Set the default shipping method for products
Click Save
After the save is successful, all the remaining products will use the default shipping method after placing the order