Click here to download ANTDIY to make dropshipping easier!
When you read these two words "Black Friday", the first thing we all think is "crazy shopping".
There is no doubt that Black Friday is the most intense shopping weekend of the year. Although it first appeared in the U.S, other countries adopted it in time and it takes place on the last weekend in November. In the U.S, they have a celebration on Friday after Thanksgiving, and it is considered as the starting point for the shopping season for Christmas.
Lots of stores and brands offer their customers discounts and other incentives to shop through Black Friday marketing campaigns. Now, it has become the most popular shopping period because everyone is waiting for Black Friday to shop. Only in the U.S, customers spent an average of $500 in 2019. So, we can easily say that Black Friday has become a shopping routine for people, and it is an effective marketing strategy, of course.
In recent years, we heard creative and attractive Black Friday ads and campaigns at a premium. As a marketing strategy, creating an interesting campaign offering special discounts or promotions for your customers boosts your sales and increase your revenues in a very little time. People rush into the stores and online shopping platforms on Black Friday.
Here we mention the best Black Friday marketing ideas as examples to inspire you.
Why is Black Friday Marketing Important?
SaleCycle reported that in 2019 Black Friday online sales surpassed all previous records, reaching $7.4 billion, up by $1.2 billion from 2018's $6.2 billion record. That's huge! This is a serious holiday that every merchant with an online or brick and mortar store should observe. Our Black Friday tips will help you to get a cut of this $90.14 billion pie so you can settle in for a prosperous holiday season.
1. A Deal an Hour
For high traffic stores, having an hourly deal covers several bases at once. Not only does it encourage spending, but by keeping your Black Friday deals a surprise and changing them often, it keeps your customers coming back.
It helps to offer Black Friday deals on all items in addition to the Deal of the Hour. For example, if you offer 40 percent off everything, then your Deal of the Hour could be 50 percent off or higher, further discounts on particular brands or items, or other combinations of sales. Don't forget to create a homepage banner for each hour you'll have a deal.
To make such sales, I recommend using apps that allow you to schedule sales, such as bold discounts. This app is perfect for staying organized during this important, fast-paced weekend, so it's worth the investment. In addition, it can also handle some management and logistics work, so you can arrange sales time to go online without being close to the computer.
When promoting "Time Trading", please consider creating product information on all social media platforms (Facebook, Twitter, Instagram, etc.). Since your work day will be busier than usual, it is recommended that you use tools such as buffers.
Managing hourly transactions requires the work of the team to manage social media, graphics, customer inquiries and management tasks. If you are currently an entrepreneur, then this may not be your best Black Friday marketing idea.
2. Free Gift with Every Purchase
Offering a free gift is a fun Black Friday deal for shoppers. With Oberlo, you'll find several products under $2.00. With each order, you can give away a free gift to every customer who orders over the Black Friday and Cyber Monday period. Items that work best for this have cheap or free shipping.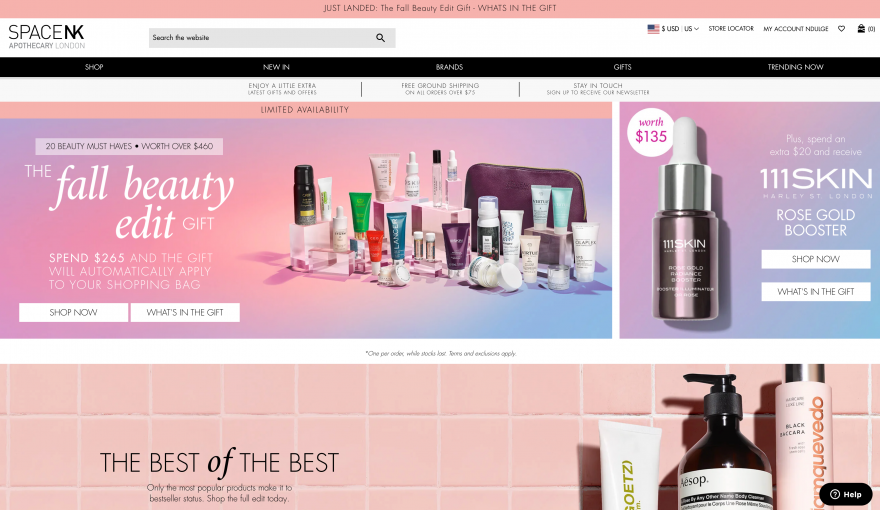 You need to display free gifts on the homepage banner to make sure it is attractive enough. You can set minimum requirements, such as "get a free gift for every $200 purchased", or if the profit margin is high, you can provide it to all customers who order.
3. Using Your Email List
Email marketing is a great promotional channel to bring sales. One of the most cited email marketing stats is that for every $1 you spend on email marketing, you have the potential to earn $42.
When it comes to email marketing for Black Friday, there are two approaches.
Previous Customers. Contact your former customers and offer them a special VIP discount code that gives them additional savings when they buy. Since they've already bought from you before, they'll be more likely to buy again. If they've bought within the past 30 days, your brand will be fresh in their mind so be sure to include those people as well. If you don't have an email list, you may want to run some ads to build out your list before Black Friday so that you can email them during the weekend. We also have an article on Ways to attract customers to provide mail that you should find helpful.
4、Black Friday Social Media Campaigns
As a part of Black Friday ad campaigns, social media plays an important role in brand promotion and recognition. You can use trending Black Friday hashtags and popular slogans to reach more people through social platforms.
For example, Amazon schedules live videos on Facebook and generate thousands of views that result in nearly 300% more customer engagement than other companies that do not use broadcasting as a marketing strategy.
Unlike traditional ads, Kohl's also creates Black Friday social media campaigns to engage with more targeted customers. The company not only shares ads announcing special Black Friday discounts but also offers a gift card to the customers in return for any response or retweet with a hashtag including the brand name.
5. Add New Products
Customers love browsing through new products. Whether a customer has only bought a product from you once, or they are a regular customer, new products will always pique their curiosity.
6、Cards Against Humanity
Making a mockery of Black Friday is the habit of the company. Every year, their team creates an absurd campaign to rebel against overconsumption on Black Friday.
As an anti-Black Friday campaign, Cards Against Humanity increased the prices for the Black Friday weekend and put an extra $5 for each product. First, they considered making a joke by reducing all the prices by $0.01 but then they decided on a much riskier strategy by increasing the prices.
7. Offer to Donate a Percentage of Sales to Charity
You can make your buyers feel better about their purchases by letting them know that a percentage of their purchase goes to charity. It doesn't have to be a lot of money, even a percent of your profits going to charity is worth it. For example, Charlie's Project leggings donates a percentage to charities, and even offers
Don't make empty promises here. Donate the money and let customers know who received their donations. You may even get the charity where you donate money to send a thank you message to your buyers and also post this message on your website.
8. Use Trending Black Friday Hashtags
The Brazilian business, Abra Casa, leverages Black Friday hashtags to promote their stylish furniture on Instagram. Did you notice the #blackfridaybrasil for the post's hashtags?
Create Black Friday Facebook posts on your page and use relevant Black Friday hashtags. You can use hashtags like
#Blackfriday,
#Blackfridaysales,
#Blackfridayoffers,
#Blackridaydeals,
#Blackfridayweekend,
#Blackfriday2020 (or the relevant year),
#BlackfridayUSA (or the relevant country where you operate),
#Blackfridayshopping,
#Blackfridayspecials
You can add more Black Friday hashtags. The goal is to get the word out about your product.
9. Black Friday Ideas for Small Businesses
We've discussed lots of Black Friday ideas for small businesses that you can take advantage of right away. But let me give you three more ideas.
Team up with other small businesses: Working with small businesses that complement what you sell can be great for business. For example, if you sell wine openers, you can team up with wine brands. You may choose to offer a discount or design and launch creative Black Friday campaigns for your users.
Promote your offers across platforms: If sell on more than one platform, say Shopify and Amazon, make sure to use the promotional tools available on each platform to get the word out.
Don't make it passive, have a landing page: Make sure you have one or more landing pages to welcome visitors to your Black Friday marketing campaigns. Show them how they'll benefit from your deals. Go above and beyond. Remember that other businesses are making offers too. So make sure yours stands out.
10. Create a Promotional Content Calendar
shopmaster vs dsers、alibaba com dropshipping、request order cancellation aliexpress、aliexpress cancel orderaliexpress order、cancelled refund、how to find alibaba dropshippers、nässeschutz kinderwagen、alibaba vs aliexpress dropshipping、alibaba dropship shopify、frei wild tortendeko、shopify global pricing rules、canceling order aliexpress、alibaba dropshippers、niche products 2020、1688dropshipping、alibaba shopify app、dropshipping alibaba、niche product 2020、1688 dropshipping shopify、aliexpress stores、aliexpress chrome、extension shopify、dropshipping with alibaba、understanding dropshipping、
As Black Friday draws nearer, you'll want to solidify your overall strategy. A great first step is to create a content calendar with what assets and content you want to share and when. Aim to plan a month ahead and start your promotions the week of Black Friday so that your customers know you will be offering deals. Your calendar should include:
New graphics and banners: You should create graphics for social media posts, and email campaigns. You'll also need to create a new homepage banner graphic as well as graphics for any promotional video clips.
Social media posts: Automating your social media posts ahead of time will make your life easier. Write out the copy with the relevant hashtags in advance, then use Buffer for marketing automation. Pay attention to where your engaged followers are located to ensure that you post at the best time for them to see.
Creative and copy: You'll want to have your creative and copy completed for emails, social media, ads, articles and more.
Promotions: Run the numbers to figure out how much of a discount you can offer your customers without affecting your margins too greatly. If you offer VIP discounts to some customers for additional savings, you'll want to ensure that you're still making a profit. Keep in mind that you'll be spending more money on advertising and paying for the actual products, so be sure to take those costs into account as well.
ANTDIY Dropshipping
The best choice for Euro/US dropshippers to improve business efficiency

ANTDIY, a High efficiency free shopify APP ,The official partner of AliExpress, the only shopify App that can provide the best customer service.
If you feel like to try dropshipping, then don't miss ANTDIY, we have a variety of functions and perfect service, it can help you import products with one click, and can also help you place orders automatically, ANTDIY helps you source your assortment from a wide variety of reliable suppliers on 10 platforms, such as AliExpress,1688 dropshipping , Taobao, etc.ANTDIY, a High efficiency free shopify APP.
It's not terrible to be fired, but if you have been overly sad, you will not be able to return to your normal life. Hurry up and start your new journey.
Learn more
Join us
dropshipping、start a dropshipping store、silkroad dropshipping、drop shipping、shopify apps、Dropshipping、selling on shopify、e commerce shipping and fulfillment、Aliexpress、shopify applications、order fulfillment、multivendor e commerce、e commerce companies、print on demand、e commerce strategy、e commerce advice、e commerce websites、e commerce web development、niche markets、multivendor ecommerce、online shopping、ecommerce store、shipping label、Shippers、startup strategyGetting FREE traffic is the dream of every dropshipping store owner, but not every dropshipping store is SEO-Optimized.