Click here to download ANTDIY to make dropshipping easier!
As remote work and satellite offices become more common, marketers are discovering that global teams can be incredibly beneficial to a company's culture and ability to hire diverse talent.
In today's workplace, diversity breeds new and unique ideas, allows us to look at our campaigns from different points of view, and benefits companies financially. In fact, by 2022, Gartner predicts that 75% of businesses with diverse frontline decision-makers will exceed their financial targets.
But, despite all the benefits of having a diverse global staff, companies are still trying to figure out how to work successfully across different timezones. Here are some ways to improve the efficiency of people working across time zones
Set Fair Meeting Time
Working across time zones requires fair meeting time. If you are not during normal working hours, you do not want colleagues or employees to have meetings at 5 in the morning or stay up late for meetings at 8 in the evening. When setting the meeting time, please consider everyone's time zone and try to rotate the time as needed. If it is impossible for everyone to meet fairly, then the best option is to rotate the start time so that it does not cause trouble to the same person every time.
Set An Official Time Zone
Although you still want to know the time zone of other people, setting an official time zone for your company can help alleviate the confusion. If each manager held a meeting based on his personal time zone, everyone else would scramble to translate it into their own time zone. Adopting an official time zone means that everyone can set and communicate meeting or deadline dates in the same time zone, no matter where they are. This can make it easier for employees to quickly know the time difference in their location.
Embrace Virtual Processes And Project Management Tools
With all the technology we have, there is no longer a need for many teams to work in the same place or at the same time.
To enable your team to keep tasks running efficiently on a global scale, use tools such as instant messaging applications, task management software, and progress trackers so that anyone on your team can Develop strategies and update team progress at different times.
In addition to allowing people to work on the same project in different time zones, these tools also enable employees around the world to complete the same discussions on which aspects of the project.
For example, if an Australian employee is working and a U.S. employee is offline, the U.S. team can view the work done by the Australian team after logging in and determine which tasks need to be completed next.
Schedule Less Urgent Emails To Be Sent When International Teammates Are Active
"When you work in a different time zone, it is important to know when to send a message or email," said Rebecca White, junior author of the HubSpot blog.
If you must send emails before or after your working hours, some communication platforms (such as Gmail) will allow you to schedule emails in advance. This is especially useful if you work late and don't want to disturb your team. However, this can be helpful when you want to send non-urgent messages to teammates around the world without waking them up in the early morning or interrupting their nightly routines incredibly.
To do this on Gmail, create an email just like drafting other messages. Then, when you are ready to schedule the email, click the arrow in the "Schedule Mail" option on the send icon.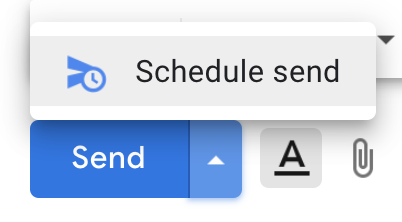 Prepare Your Questions
There may be no stupid problems, but there are clumsy, heavy, and useless problems.
If you are working asynchronously, you will be familiar with this situation: you ask someone a question about Slack, wait a few hours, get some follow-up questions, answer those questions, and then wait a few more hours. Although the meeting allows immediate follow-up of questions, you only need to ask some good questions first to achieve the same result and even be more efficient.
When asking a question, don't assume that others know what you are talking about. Provide them with some clarifying context. Reread your question, try to determine where you are making assumptions, and prioritize any questions that someone might ask. In addition, include links to the content you are quoting, so no one will look for this information alone, so you can be sure that they are looking for the same things as you.
Ultimately, the most important things to embrace and keep in mind with team members in different time zones are respect, compassion and tolerance.
mega menu,globo pre rder,sesami: appointment booking,shipway order tracking,geolocation,section feed instagram feed,sesami: appointment booking,candy rack one click upsell,sesami: appointment booking,zonos duty and tax,sesami: appointment booking,order delivery date,section feed instagram feed,reviify  aliexpress reviews,zonos duty and tax,advanced product options,product personalizer,report pundit,wholesale pricing discount,free persistent cart app,candy rack one click upsell,trackingmore order tracking,sales rocket,vault antitheft,bulk discounts,shopney mobile app,quickbooks online by onesaas,sesami: appointment booking,sales rocket,point of sale,limespot personalizer,nextsale social proof,variant image automator,printy6 print on demand,vault antitheft,bulk discount code generator,sesami: appointment booking,vault antitheft,dropify,prerder manager preorder,section feed instagram feed,vault antitheft,google ads conversion tracking,quickbooks online by onesaas,variant image automator,instagram feed  photo gallery,bulk price editor by buymaxx,multinnouncement bar maker,variant image automator,bulk product editor & sync,clicksit return center,whatsapp chat  cart recovery,personalized recommendations,zonos duty and tax,multi nnouncement bar maker,free tabs product page tabs,ebaymarketplace integration,variant image automator,exit intent popup by optimonk,order delivery date,exit intent popup by optimonk,
ANTDIY Dropshipping
The best choice for Euro/US dropshippers to improve business efficiency

ANTDIY, a High efficiency free shopify APP ,The official partner of AliExpress, the only shopify App that can provide the best customer service.
If you feel like to try dropshipping, then don't miss ANTDIY, we have a variety of functions and perfect service, it can help you import products with one click, and can also help you place orders automatically, ANTDIY helps you source your assortment from a wide variety of reliable suppliers on 10 platforms, such as AliExpress,1688 dropshipping , Taobao, etc.ANTDIY, a High efficiency free shopify APP.
It's not terrible to be fired, but if you have been overly sad, you will not be able to return to your normal life. Hurry up and start your new journey.
Learn more
Join us